CLOTHES THAT GROW - PULLOVER VC-2
£50.00
Regular price
£79.00
London designed, built in Portugal
These archive pullovers feature the popular colours of Kelvin Blue, Cosmic Green & Eclipse Black with a diagonal front design.
Our versatile pullovers grow with your child through 7 sizes, are machine washable, easy to store in bags and layer over base layers - essential for on the go LittleHumans. Iconic design that has won the Red Dot & Dezeen awards.

_Designed in London

_Ethically made in Portugal
_Breathable, lightweight, rainproof, ripstop
_Sustainably made from 7 recycled bottles

Petit Pli's clothes that grow are designed to be worn everyday. Made for LittleHumans who love to play indoors or explore the outside - in wind, rain, snow or sunshine!

Inside, whether you are creating dens at home, mess at the nursery, discovering new things at the museum or munching on crumbly biscuits, the suit acts as a comfortable soft layer that allows easy movement and can be wiped clean... Outside, whether you are running around a wet field, discovering bugs in mud, riding a bike or climbing the highest peak of the playpark, the suit protects LittleHumans from the outer elements … Designed for every day and every activity.

GRIP: Silicone grippers to maintain fit
ADAPT: Adjustment tabs for wrists big and small
STORE: Expandable pocket for knick-knack storage - select colours
REFLECTIVE: 3M strips for improved visibility
FABRIC: Tear-resistant & technical ripstop made from recycled bottles
LABELS: Transfer labels, no itchy label syndrome
VERSATILE: Breathable, lightweight, rainproof
 DWR coating

Oeko-tex certified approved fabrics for your LittleHuman to explore the world carefree. Bluesign accreditation for recycled bottle usage. Biodegradable water & stain repellant coating. 
FAQs
With the release of a brand new innovation, it's natural to be curious & have questions. If you have any further inquiries, please message us via our live chat located at the bottom right of this page. This will undoubtedly be the coolest gift for your LittleHuman.
The trousers are soo smart! And beautiful as well, they fit my one year old son perfectly. He loved the packaging too, we were short of a jetpack at home!
Martina Z
EXPLORING THE SEASONS
This charming series of vignettes follows Masumi & Towa over a year, with the changing seasons as a backdrop to Masumi's choreography and dancing, and Towa's transformation as he grows.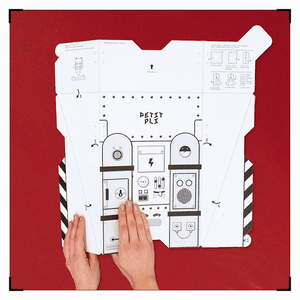 JET-PACKAGING
Zero waste packaging inspired by our origami designs and a fun activity for your LittleHuman.
Learn More →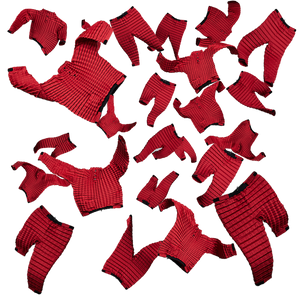 WORLDWIDE SHIPPING
Our patented designs are only available direct from Petit Pli. So, we ship to most of the globe.
Delivery Information →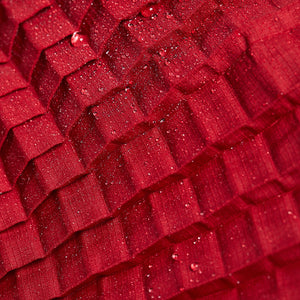 CARE
A cold, gentle machine cycle will take the best care of your Petit Pli garment. Learn more.
Learn More →
We just love it so much! <3
I bought 2 suits (in cosmic green and blue) - one for my daughter and one for my niece (almost) one year ago (and they still look the same) and we just love them so much. I keep our suit in my daughter's bag all the time, and love it because it is so versatile - I put it on the top of whatever she is wearing across seasons. In spring/summer she might just wear it on its own. She loves it and everyone notices it - when I explain that it is made of 100% ocean plastic bottles and that the suit grows across 7 sizes everyone is amazed :-) Well done Petit Pli team!
Großartig – absolut Empfehlenswert
Als Designerin und passionierte Sportlerin, habe ich meine ästhetischen und funktionellen Erwartungen an Kleidung. Als Mutter weiß ich wie schnell unser kleiner Erforscher wächst und wie wild es bei all den aufregenden Abendteuern zugehen kann. Mit seinem Petit Pli Set hat unser Kleiner endlich ein Outfit dass nicht nur bis ins letzte Detail mit viel Aufmerksamkeit und Verständnis designed wurde sondern auch eines dass viele Jahre passen wird und die Idee von Nachhaltigkeit dadurch von einem ganz neuen Winkel aus beleuchtet.
Just the unpacking
Little Sara is only 3 months old by us so she still has to grow into the starting size. All i can write in my review is the unpackaging and how environment friendly it made us feel doing so. The fact that we didnt put anything into our garbage bin after a package came to us made a real impact by us. We love the whole concept sofar and we hope that Sara will love it as well.
Kepp on the good work :)
Gala's Suit
We really love P P's clothes: they are light, versatile and look great! The only thing to point out is that sometimes, when worn, it takes time for the fabric to get back in shape and looks a bit amorphous. But otherwise, it is all fantastic
So cool! But pleat edges are a bit stiff
I bought my 2 year old a set but he complains that it feels scratchy. I felt inside and I think what he is referring to are the edges of the pleats, they are a bit stiff. I think once he grows a bit and the pleats stretch out the edges will soften. The quality is lovely, the design is super cool.. I'd LOVE a pair for myself!