Home / A SUSTAINABLE CHILDRENSWEAR REVOLUTION
A SUSTAINABLE CHILDRENSWEAR REVOLUTION
WHY DOES PETIT PLI EXIST?
Simple, to offer parents an alternative option which is better for people and planet. From harvesting raw materials, converting them into sheets of textiles, shipping them to a factory and ensuring that those making the garments have employment rights and are not paid below the minimum wage, shipping the end products to a warehouse and paying all the relevant wages. What is the true cost? The cost to other people making the clothes and the cost to the future world that our LuttleHumans will grow up in?
RESOURCES

Recycled fibres in our core collection. Ethical production in Portugal, with energy derived from renewable sources. Smaller R&D "beta" runs made locally in London. That's what the 21st century should look like.

MATERIALS

Our patented growth technology is one of a kind. Investing into long lasting piece means we can use the highest quality materials. Recycled fibres, non-toxic stain repellant coatings, breathable & soft ripstop.

FREE REPAIRS

Our commitment to more responsible consumption drove us to develop our Free Repairs programme. In addition, our guaranteed fit means fewer deliveries and returns, resulting in less CO2 waste when purchasing.

INSPIRE

Our main goal is to inspire the next generation to consume responsibly. To teach the value of multidisciplinary thinking & the power of Engineering, Science and Design. From packaging that turns into a toy to magical clothes that'll capture many memories.
NOT JUST ANY OLD GARMENT.
That's why you'll find patented textiles, recycled fibres, stain and water repellent coatings suitable for rain or shine. Ethical production in Portugal, using a factory that derives it energy from renewable sources. We're so confident of our attention to detail, that we even offer free repairs in the unlikely event anything goes wrong. Finally you're saving time, money and hassle on delivering new clothes every 3 months, because Petit Pli grows with your LittleHuman.
CARBON FOOTPRINT
Petit Pli's designs significantly reduce waste and CO2 emissions at the point of production, distribution and after purchase. Our garments grow up to 7 sizes – that's 1 Petit Pli garment purchased in place of 7 traditional ones.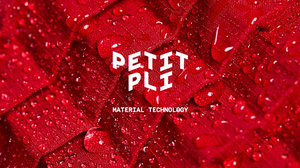 FREE REPAIRS
Let your LittleHuman be the extreme athlete that they are. Our stain repellant fabrics and reinforced knees should ensure durability. But if the worst comes to the worst, we'll repair any rips as part of our free repairs guaranteed.
WE WANT TO INVENT THE FUTURE
Petit Pli strives to push innovation & invention forward for the better of everyone! We're inventing new approached that require time & skill to develop - and we're excited for you to join us on this journey.